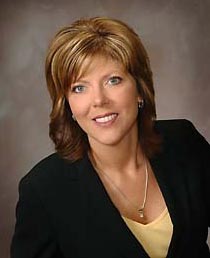 Kelly Bennett
Multi-million dollar producer for over 22 years
First Weber's President's Club of Superior Performers for past 22 years. Emerald Circle in 2013, 2017 & 2021, Ruby Circle in 2014, 2015 & 2016, Chairman's Circle–Silver 2018 & 2020 and Chairman's Circle–Platinum 2019
Specializes in new home construction, existing homes, condominiums & homesite sales
Recipient of First Weber "Customer Service Award" 2006 to 2021
Testimonials
Tim & Megan, Deforest:
Kelly went above and beyond to sell our house in a difficult time.
Bill & Jenna, Deforest:
The best realtor ever! She is the most kind, responsive and goes above and beyond. I wouldn't want any other realtor!
Dale & Lynn, Sun Prairie:
My wife and I have relied on Kelly's professional services three different times in the past six years. Each and every time Kelly has exceeded our expectations of quality real estate services. Kelly always goes above and beyond what is normally required in this type of business. It only required Kelly a total of three (3) days to sell our most recent property. Could not be happier!
Carl & Janelle, Deforest:
Kelly really helped my wife and I get a home in a timeline that was faster than I thought possible. Really supported us and was so helpful!
Megan, Sun Prairie:
Kelly is the only realtor I'll work with! She treats me like family and knows her stuff. I know I'm in good hands with her. I highly recommend!
Layne & Sydney, Deforest:
Was quick in responding to emails. Was forward and honest about homes. Was very helpful during the entire process.
John, Cottage Grove:
She was awesome… I have already recommended her to another friend that will be selling his house soon.
Colin & Susan, Deforest:
Kelly is the best, we're so happy she was our agent.
Laura & Vinny, Madison:
Kelly was incredibly helpful and knowledgeable throughout the whole process and went out of her way to make sure we had a good experience buying our first home. It was clear that she had our best interest at heart and I could not be happier with the end result. We really appreciate everything she did for us!
Bill & Pat, Cottage Grove:
We really enjoyed working with Kelly. She was very helpful and kept our interest at heart. It was great knowing that we could trust her.
Nick & Maria, Sun Prairie:
Kelly is simply the best! She goes above and beyond to provide a smooth, pleasant experience. Not to mention she sold our home in less than three weeks!
Kyle & Amy, Lodi:
We could not have asked for a better experience selling our house. Kelly was extremely knowledgeable about how to list the property and was always available to answer any questions along the way. She kept us informed of the process & made sure we were comfortable with every decision.
Chris & Nicole, Poynette:
I have used Kelly as my agent previously and would never use anyone else!
Martin & Linda, Columbus:
It was a great pleasure for us to work with someone as nice and helpful as Kelly in purchasing and closing on the lot. She was very responsive to us and got answers for all our questions in a timely manner, despite us being 230 miles away in northern Wisconsin part of the time. We highly recommend Kelly in real estate transactions, and in interfacing to the land developers anytime.
Judy & Allan, Deforest:
Kelly was great, very helpful. If we called her she answered immediately.
Cheryl, Madison:
I have already mentioned her to others. It was such a pleasant experience working with Kelly. She went beyond my expectations!
Mike & Julie, Deforest:
Kelly is amazing! Very attentive and knowledgeable. Felt like I was saying goodbye to my best friend at the closing. Will definitely call on her in the future and refer her to family and friends who are buying and/or selling their home.
Carol, Arlington:
Kelly was great at getting me motivated to sell my house and her assistant was great at answering questions I had. They make a great team and I am so thankful for them! I trusted them both completely! So glad I had both of them in my corner and would highly recommend them to others!
Steve & Michelle, Sun Prairie:
We are thankful for Kelly's help. We highly respect her knowledge, she responds quickly to our inquiries and gave us confidence during stressful decisions.
Bill & Jennifer, Sun Prairie:
Kelly goes far beyond what any Realtor would do. She assisted my wife and I with every stage of our home building/purchasing process. She acted as our advocate at all times. Kelly is a true professional, the best of the best. I cannot say enough good things about our experience with her. We highly recommend her and definitely use her again when we are in need of a Realtor.
Matt & Adam, Windsor:
Kelly was truly amazing to work with. We were selling our first home of nine years and purchasing a new home. When we set out to begin the search, we had no idea we would find a home we loved that same week. Selling our first home became a far more emotional decision than we had ever anticipated. Kelly was there for us at each moment. Her industry knowledge, skills as a sales person and availability far exceeded our lofty expectations. She sold our home for asking price (above what we expected) in 5 business days. Additionally, our new home was new construction so there were many stages of that process that she helped us through. We anticipated that there would be hurdles throughout the process, but at the end of the day Kelly made sure there weren't any. From start to finish, we bought, sold and moved into our new home in two months. We couldn't be happier. Thank you.
Steve & Megan, Sun Prairie:
Kelly helped us buy our house and sell our condo. We always knew she had our best interests at heart. She made the process as easy as possible and we definitely benefited from her years of experience. We'll always go back to Kelly for all of our real estate needs!
Jason & Shawna, Deforest:
Will not work with anyone else but Kelly in the future. She helped us with all of our children during our house hunt and went out of her way for us 3 times on our move in day! She is truly amazing.
Terry & Amy, Deforest:
Kelly was great and made this process go very smoothly. Her knowledge of the area is excellent and she quickly narrowed down home choices based upon our needs.
Joe & Nadia, Sun Prairie:
We had the pleasure of working with Kelly for several months on the build of our new home, and she was also involved in the transaction of our former home. I could not have been more impressed by Kelly's professionalism, responsiveness, knowledge, dedication, and kindness. She demonstrates tremendous patience and a strong commitment to client satisfaction. She is a quick and effective problem solver, and highly competent in every area needed for the work she does. There was great comfort in knowing that she was there to advocate for me and make sure that I was happy with how things progressed. Kelly also went above and beyond in helping me with the design process, pointing out things I never would have considered without her expert advice, and making sure that the home would be both beautiful and functional for our family. Even after the closing of our home, she continues to check in and make herself readily available to answer questions and quickly resolve any issues. In summary, Kelly has exceeded my expectations and I would highly recommend her to anyone I know!
Jerome & Chrissy, Sun Prairie:
Kelly was recommended to us by one of her former clients, and she definitely lived up to the praises that he had from working with her. Kelly was extremely thorough and detailed in providing us all the information that we needed to make the process go extremely smoothly. Kelly was extremely knowledgeable about the area that we were looking in and also extremely helpful with any questions that we had. She listened to what we were looking for and did not try to pressure or push us in any certain direction but showed us options that met what we were looking for. I would highly recommend Kelly to anyone searching for a home. It has been an extremely pleasurable experience working with her.
Ritch & Paula, Deforest:
Kelly Bennett and her team worked extremely hard to make my selling experience the best that it could possibly be. I have had Kelly sell previous houses, and I never hesitate to go back to Kelly when I want to sell my current residence. Kelly and her team are just wonderful.
Ed & Linda, Madison:
Kelly was a wonderful agent and helped us immensely. We would highly recommend her.
Kyle, Arlington:
Kelly was fantastic to work with! All emails and calls were returned within minutes no matter the time! She is incredibly hardworking, prompt, knowledgeable and helpful. I was nervous about the whole buying a house process but she made every step incredibly easy and understandable. Had great insight and advice. Will eagerly recommend!
Jim & Patty, Madison:
Really enjoyed working with Kelly. Will call her again if we need to sell, and will refer her to anyone I can.
Perrin & Carrie, Madison:
Perfect 10 out of 10 Experience! Kelly is the most knowledgeable and professional realtor we have had the pleasure of working with. Highly Recommended!
Jane, Deforest:
Kelly was always kind, helpful and upbeat. Her expertise allayed all of my apprehensions during this emotional time of selling my family home.
Clair & Christine, Sun Prairie:
Moving out of state is difficult enough but leaving before your home is sold is extremely hard. We could not have done this without Kelly. Kelly is amazing! Thank you Kelly!!!! We love you!
Whether you would like to buy or sell an existing home, build your dream home, or buy a homesite for the future, let us be the people to help! Our number one goal is to ensure that our customers have professional, prompt, and reliable service.
Want to know more?
Contact Your New Home Specialist, Kelly Bennett:
Call 608-825-9553 or email kelly@firstweber.com