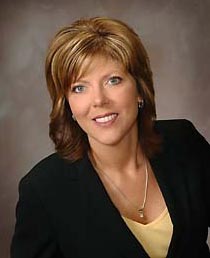 Kelly Bennett
Multi-million dollar producer for last 20 years
First Weber's President's Club of Superior Performers for last 19 years. Emerald Circle in 2013 and Ruby Circle in 2014 and 2015.
Also specializes in existing homes and homesite sales
Recipient of First Weber "Customer Service Award" 2006 to 2015
Over 20 years of experience
Testimonials
Terry & Amy, Deforest:
Kelly was great and made this process go very smoothly. Her knowledge of the area is excellent and she quickly narrowed down home choices based upon our needs.
Joe & Nadia, Sun Prairie:
We had the pleasure of working with Kelly for several months on the build of our new home, and she was also involved in the transaction of our former home. I could not have been more impressed by Kelly's professionalism, responsiveness, knowledge, dedication, and kindness. She demonstrates tremendous patience and a strong commitment to client satisfaction. She is a quick and effective problem solver, and highly competent in every area needed for the work she does. There was great comfort in knowing that she was there to advocate for me and make sure that I was happy with how things progressed. Kelly also went above and beyond in helping me with the design process, pointing out things I never would have considered without her expert advice, and making sure that the home would be both beautiful and functional for our family. Even after the closing of our home, she continues to check in and make herself readily available to answer questions and quickly resolve any issues. In summary, Kelly has exceeded my expectations and I would highly recommend her to anyone I know!
Jerome & Chrissy, Sun Prairie:
Kelly was recommended to us by one of her former clients, and she definitely lived up to the praises that he had from working with her. Kelly was extremely thorough and detailed in providing us all the information that we needed to make the process go extremely smoothly. Kelly was extremely knowledgeable about the area that we were looking in and also extremely helpful with any questions that we had. She listened to what we were looking for and did not try to pressure or push us in any certain direction but showed us options that met what we were looking for. I would highly recommend Kelly to anyone searching for a home. It has been an extremely pleasurable experience working with her.
Ritch & Paula, Deforest:
Kelly Bennett and her team worked extremely hard to make my selling experience the best that it could possibly be. I have had Kelly sell previous houses, and I never hesitate to go back to Kelly when I want to sell my current residence. Kelly and her team are just wonderful.
Ed & Linda, Madison:
Kelly was a wonderful agent and helped us immensely. We would highly recommend her.
Kyle, Arlington:
Kelly was fantastic to work with! All emails and calls were returned within minutes no matter the time! She is incredibly hardworking, prompt, knowledgeable and helpful. I was nervous about the whole buying a house process but she made every step incredibly easy and understandable. Had great insight and advice. Will eagerly recommend!
Jim & Patty, Madison:
Really enjoyed working with Kelly. Will call her again if we need to sell, and will refer her to anyone I can.
Perrin & Carrie, Madison:
Perfect 10 out of 10 Experience! Kelly is the most knowledgeable and professional realtor we have had the pleasure of working with. Highly Recommended!
Jane, Deforest:
Kelly was always kind, helpful and upbeat. Her expertise allayed all of my apprehensions during this emotional time of selling my family home.
Clair & Christine, Sun Prairie:
Moving out of state is difficult enough but leaving before your home is sold is extremely hard. We could not have done this without Kelly. Kelly is amazing! Thank you Kelly!!!! We love you!
Whether you would like to buy or sell an existing home, build your dream home, or buy a homesite for the future, let us be the people to help! Our number one goal is to ensure that our customers have professional, prompt, and reliable service.
Want to know more?
Contact Your New Home Specialist, Kelly Bennett:
Call 608-825-9553 or email kelly@firstweber.com